Brabham BT36
This page is designed to act as a summary of the information being collected and discussed on a Brabham BT36 thread in the 10 Tenths Chassis Archive. The histories have been constructed by Andrew Fellowes with the extensive assistance of Bryan Miller, David McKinney, Allen Brown, Ian Henderson, Chris Townsend, Ted Walker, Jeremy Jackson, Steve Wilkinson, Philippe Demeyer, James Murray, John Turner, Dan Rear, Milan Fistonic and others.
If you can add anything further, please join the thread at 10 Tenths.
BT36-1
1971 Rondel Racing for Tim Schenken in F2
1972 Bobby Howlings in libre (March)
1972 Leased by Tate of Leeds/Titan Properties to Graham Hill, F2 with BDE
1972 Tate of Leeds/Malcolm Wayne in libre (and Atlantic?)
then via Bob Howlings to
1972-3 Arthur Moore
1975 Possibly Cheshire Sports Cars for sale
1976 Bob Howlings sold to
1976-8 John Tait
1978? Eddy D'Hoe, Belgium, with FVA & FT200
1980 Regis Jumez, Boulogne-sur-Mer, France
1984 Bob Howlings, then to Anthony Mayman
1986 John Harper (via Ted Walker) sold to;
1989 Peter Williams
2002 Andrew Fellowes
2009 Ian Rimmer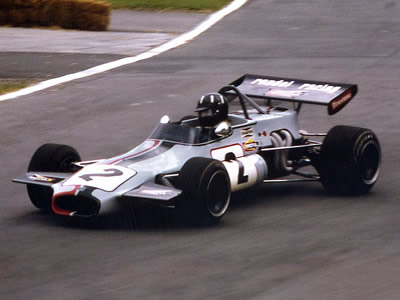 BT36-2
1971 Rondel Racing for Graham Hill and Bob Wollek in F2
1972-3 John MacDonald Hong Kong, Hart 416 on carbs
1973 Eddie Marcello Philippines, damaged in accident
1975 Rod Ocampo
1977 Romy David
19?? Louis Camus
1988 Leif Norberg (restored 1996 by Peter Denty)
2004 Andrew Fellowes, Australia (retains original gearbox)
2011 Alan Telfer
BT36-3
1971 Bernd Terbeck in F2
1972 Bernd Terbeck in F2
Accident at Hockenheim 16th April and returned to England for repairs.
1972 August 10th A/S car for sale by Kaydon Racing at Cobham *2
Returned to Bernd Terbeck who sold to Heinz Stemmer, Münster
then to Karl-Heinz Kühn,
1984 Hans Peter
2003 Willy Markwalder
2006 Heinz Rolf Wisskirchen
BT36-4
1971 Rolf Stommelen in F2
1972 Roland Binder in F2
1973 22nd July raced at Misano by Binder
1974 Roland Binder for sale in February
- Wittwer Racing : car had been modified with strange March bodywork,
- sold to Ruedi Jauslin,
- then to dealer Fridolin Hämmerli,
- sold to Hansmarkus Huber who bought new Brabham bodywork from Peter Denty,
- sold to Albert Eggs,
- sold to "someone from Zurich".
nothing further 'till
seen in 2003 with Sid Hoole and then
2005 with Joseph (Sepp) Meyer
BT36-5
1971 F.I.R.S.T. for Peter Westbury for F2 *3
1972 (early season) Peter Westbury for F2
1972-74 Nick (Neckel) Koob, Luxembourg for French, Belgian and Luxembourg hill climbs
1975 Johny Krier, Luxembourg for French, Belgian and Luxembourg hill climbs
1977 Roger Hennebert, Belgium,
1978 Marcel Tarrès?
1979 Guy Verraux, Charleville, France
1980 – 1981 Claude Bargellini, Longwy, France
1981 – 1984 Francois Wille, Longwy, (Martini bodywork but with chassis plate)
1986 Yves Bole, Venissieux, France
1993 John Beasley, Shrewsbury
1998 Abba Kogan (new chassis) *4
2007 Sold at auction to Annette Abaci/Thomas Steinke
BT36-6
1971 Automovil Club Argentina for Carlos Reutemann in F2
1972 April 20th A/S reports sent to Argentina as a race school car.
1974 BT36-6 & 7 driven by Esteban Fernandino and Pablo Brea
2008 Automovil Club Argentino Museum, Argentina
BT36-7
1971 Automovil Club Argentina for Carlos Ruesch in F2
1972 April 20th A/S reports sent to Argentina as a race school car.
1974 BT36-6 & 7 driven by Esteban Fernandino and Pablo Brea
2008 Fangio Museum, Argentina
BT36-8
1971 Archie Phillips in Irish libre
1972 Archie Phillips in Irish libre (also driven by John Watson and Jay Pollock)
1973 Eddie Regan in Irish libre
1973 (from June) Bob Leckie in Scottish libre
1974-75 Phil Barak in libre Sold to Howlings in exchange for road car
1975? Bobby Howlings.
Nothing further known.
BT36-9
1971 Rondel Racing for Bob Wollek in F2
1972 John Kendall & leased to Richard Scott for F2
1973 José Araujo for F/Atlantic, accident Snetterton,
1973 Ken Thorogood, subsequently to Peter Denty
2008-10 Restored by Peter Denty.
2010 Klaus Bergs
BT36-10
1971 early September, John Wingfield, libre – 1.7-litre Felday BDA,
1972 John Wingfield, F2 and libre – 2-litre BDA
1973 Feb 15th A/S for sale Ascot 20040
1973 Iain McLaren, hillclimbs and libre – 1.8-litre FVC
1973 (Oct/Nov) MRE
1974 Chris Choat & John Hardesty, libre – 2 litre Racing Services BDA
1975 (to June) Chris Choat & John Hardesty, libre – 2 litre Racing Services BDA
1975 (from August) Nick Overall, libre – 2 litre Racing Services BDA
1976 Mike Gue
1976 Ian Henderson who still retains.
BT36-11
1971 Silvio Moser to replace BT30-17 mid to late in the year, and sold at the end of 1971, or beginning of '72 to probably Hans Obrist *1
1977 possibly the car of Michel Salvi sold 1978 to Jacky Delloz, Champagnole, crashed c.1980
then to J Plante, Carcassonne
1988 Alain Filhol
1992 Ermanno Ronchi (Italy)
2000 Brooks auction (failed to sell).
2003 Andy Newall
2003 James Murray. New Sid Hoole chassis, original retained.
2006 rebuilt with original chassis, new chassis sold for rebuild of a BT35.
2008 Sepp Meyer
2011 Luciano Arnold
BT36-12
1972 Noritake Takahara for Japanese F2
1973 Noritake Takahara for Tasman and Japanese F2
1975 Shigeaki Asaoka
1977 Kiyoshi Misaki
1978-1985 Mr Tomita
1986-1997 Shigeaki Koshiba
1997-2006 Hashime Tanaka
2006 Tom Smith (CA, USA)
BT36-14
1972 Fushida
1973 Nagamatsu
1974 Tsutsumi
1975-77 Muromachi
nothing further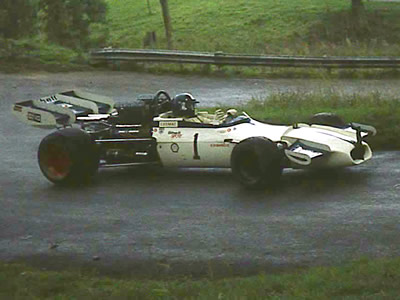 BT36X-1
1971 Mike MacDowel for hill climbs (5-litre Repco)
retained 'till 1974 (advertised 14 Nov 1974)
1975 Tony Brown
1976 Tony Brown (advertised 14 Oct 1976)
1977 ?Dave Bishop for sprints
nothing more 'till
1981-83 Chris Dowson (Repco V8) – retained until 1985 at least
nothing more 'till
1997 Brooks auction (Repco V8)
acquired by Ole Sommer Museum, Denmark
2006 Ole Sommer Museum retains
Note
*1. Silvio Moser's mechanic Beat Schenker lists this as BT30-17, being uprated with a BT36 chassis and then sometimes refered to as BT36-11 or as a BT30/36. However it would seem both chassis have survived.
*2. Autosport Advert September 14th 1972, BT36, continental driver, MRE. possibly same car
*3 New chassis post Crystal Palace, original retained and later reused.
*4. 2008 BT36 bare chassis AM71-CL-49 sold at Goodwood reputedly from BT36-5